Hello, Hivers! Welcome to my page!
A few days ago, I wrote a post about preparing to start this year's garden seeds. This post is a follow-up to that post.
I had ordered some different seed packs from an heirloom seed supplier, Annie's Heirloom Seeds, and they showed up a couple of days ago in the mail. Among them was 2 packages of paste tomato seeds. Amish Paste tomatoes are one of my favorites to grow in the greenhouse, and I had to order those seeds. I also ordered seeds for a new to me paste tomato, the Blue Beech tomato. I don't know why they call it that, the tomatoes are red. They are supposed to be well adapted to northern climates, and resist disease and blossom end rot more than most varieties. As you can see, I also got a variety of other seeds to plant in the garden.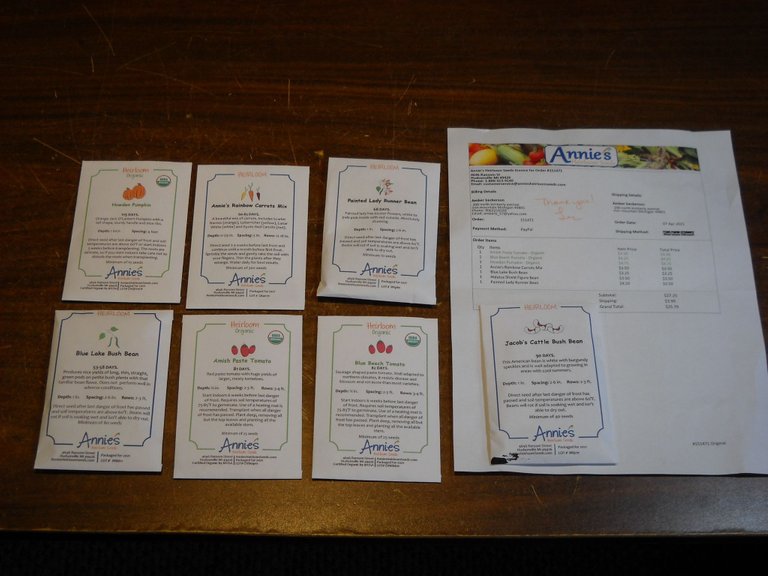 These are the tomato seed packs that I'll be working with this year. I have 4 paste types and 3 slicers. Black Krims are one of my favorite tomatoes to grow, but they didn't do that well last year due to too much shade and a bit of blight. Hopefully this year will be better for them. The Amana Orange is a new one for me this year. I like to plant yellow and orange varieties for their subtle taste differences. I've been growing a couple of the hybrid Better Boy tomato plants for the past couple of years because they are more disease resistant than a lot of other varieties. The Roma is an old favorite paste tomato. They're usually small, but there's lots of them when they get ripe. The Big Mama is also new to me, but I figured it would be worth trying.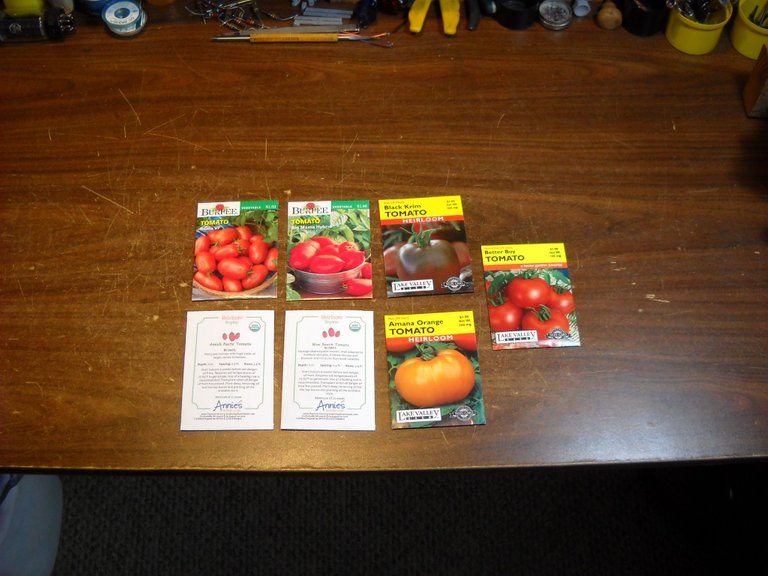 The seed tray that I'm using has space for 18 of the little square pots, so I decided to start by planting 6 seeds each of 3 varieties to start with. I don't expect all the seeds to germinate, but if they do, I'll have lots of plants. I'm planting the paste tomatoes first because those plants will go into the greenhouse first, and some of them will stay in the greenhouse for the summer in the big pots.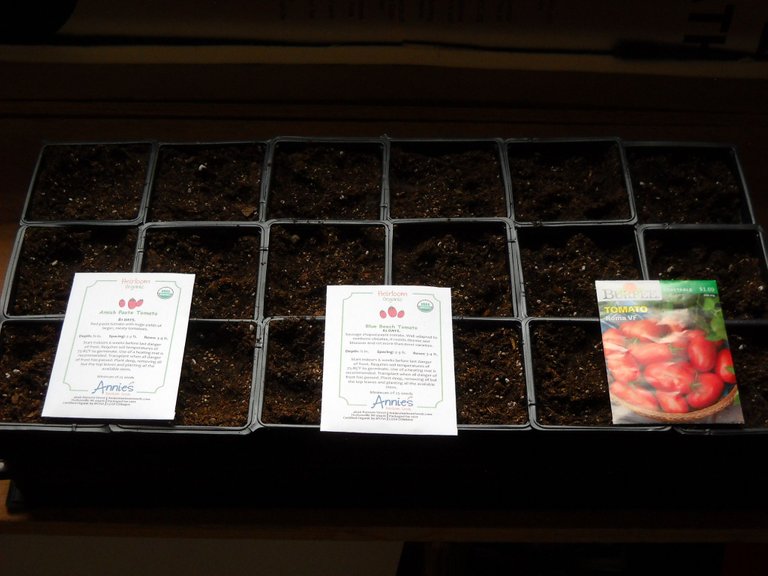 This is what it looks like when you are starting seeds on a seed starter heating pad. You get a lot of condensation on the inside of the clear cover. The cover does help to hold the moisture in so the starter soil won't dry out too quickly.
Once these 3 seed types are up, I'll start the second batch of tomato seeds. Those plants will be planted out in the garden at the end of May, so I don't have to get them started too soon. I expect these seeds to take about a week to come up, tomato seeds are pretty slow to germinate. The heating pad does help, but it still takes a while.
That's all I have for this post, thanks for stopping by to check it out!